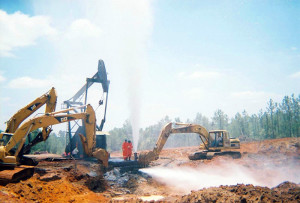 To understand who we are, it's important to understand where we came from.  Kelley Companies origins lie in the determination and work ethic of two brothers.  T.O. and E.L. Kelley founded Kelley Brothers Contractors in October of 1955 with little more than a few pieces of equipment and a vision.  Armed with only two bulldozers and some smaller equipment, the Kelley brothers poured their all into their company, working many long hours building everything from government farm ponds to clearing pasture land.
Some years later, the Kelley brothers had the opportunity to acquire a local propane distributorship based in southern Wayne County.  Local LP Gas became the second Kelley Company.
In the midst of difficult times, T.O. and E.L. Kelley were always looking for ways to reduce operating costs and save money.  After determining that fuel was their largest expense, the Kelley brothers purchased a bulk fuel distributor in Waynesboro, MS.  The brothers believed that by keeping their largest expenses "in house", they could increase revenue, and pass savings along to their customers.  This is how Kelley Oil Company became the third Kelley Company.
In the late 1970's, with the southeastern oil boom, T.O. and E.L. Kelley opened a second Kelley Brothers Contractors office located in Flomaton, near the southern border of Alabama.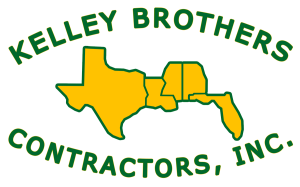 As the business grew and companies expanded, the Kelley brothers once again began to look for ways to reduce operating costs.  Used to build board roads for oilfield locations, lumber remained the Kelley brothers' second largest operating expense.  By purchasing a sawmill in Greene County, T.O. and E.L. Kelley were able to further reduce costs and be more competitive than ever.  Al-Tom Forest Products became the fourth Kelley Company.
In 1990, T.O. Kelley purchased his brother's stock in the companies.  Since that time, T.O.'s sons, Tommy, Jerry, and Terry, have managed company operations under the guidance of their father.
Under the combined leadership of T.O. Kelley and his three sons, the Kelley Companies experienced unprecedented growth.  To meet the demands of a growing lumber market, the Kelley family acquired another sawmill in Clarke County, thereby expanding logging mill operations.  Kelwood Products became the fifth Kelley Company.
As the oilfield industry grew in Mississippi and the surrounding states, so did the number of government-issued environmental regulations concerning the oil industry.  Recognizing another opportunity to meet a growing need, the Kelley family founded Complete Environmental in 1998.  Complete Environmental now compromises two locations located in Purvis, MS, and Theodore, AL.  Offering a complete range of environmental services including disaster response, containment, clean up, and disposal, Complete Environmental became the sixth Kelley Company.
Once again seizing an opportunity, the Kelley family acquired EDL Labs, an environmental laboratory, in 2000.  EDL Labs would complement Complete Environmental's range of services, and reduce testing costs, which had become Complete's largest expense.  Also located in Purvis, MS, EDL Labs became the seventh Kelley Company.
We are currently celebrating our 60th anniversary at Kelley Brothers Contractors, the first of the Kelley companies.  We have grown from one company, based in Waynesboro, MS, to an enterprise spanning several states.  At Kelley Companies, we are 60 years strong, and we are just getting started.